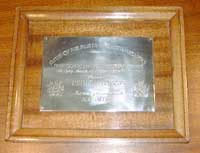 Awarded to a member or members of a crew whose outstanding behaviour and action contributed to the saving of their aircraft or passengers.
2020 Awarded to: Flight Lieutenant Paul Medford RAF

On the night of 10 February 2019, Flight Lieutenant Medford was the captain of a CH47 conducting overseas operations. Atrocious weather across the mission area was encountered, with a complex combination of torrential rain, low cloud with embedded thunderstorms and zero ambient light. The formation was operating toward the limit of crew capability, with the appalling flying conditions enduring for much longer than had been forecast. The electro optical devices, used for low flying, were barely functioning due to the moisture in the air and the task had to be adapted to ensure safe delivery of the mission critical passengers. As the formation continued towards a remote landing site, both Medford and the rear crewman noted the strong and distinctive smell of hydraulic fluid.
The crewman immediately investigated and quickly became covered in vaporising fluid from an uncontrollable leak. Medford immediately reduced speed to assess the severity of the situation and simultaneously ordered the isolation of the hydraulic sub-systems. The situation in the cabin was deteriorating rapidly due to a constant spray of highly flammable fluid and the rear of the cabin became saturated. Within minutes, the mist reached the cockpit and covered the flying instruments just as the cockpit warning panel illuminated.
Medford immediately ventilated the cockpit to clear the hydraulic mist and regain his already poor visual references with the ground, no more than 100 feet below. The vaporised fluid had contaminated the entire internal body of the aircraft, with map displays near impossible to read and even the inner lenses of the night vision goggles being coated in a hazy film, reducing visibility further. With the emergency now contained, the formation continued to battle through the adverse weather to the nearest landing site. Medford carefully balanced the risks of continuing versus the risk of setting the aircraft down in potentially hostile territory. With senses already heightened, the aircraft warning panel indicated a further loss of a flying hydraulic control system, resulting in 2 of the 3 systems now indicating inoperable. This emergency usually requires an immediate landing, as a loss of the final system would render the aircraft completely uncontrollable. However, given the hostile location, Medford decided to continue flight and ensure the aircraft, crew and passengers were not exposed to the significant ground threat.
Medford's leadership continued upon arrival at the remote landing site. With a clear mind and recognising the operational requirement to keep the main landing site open, he negotiated an alternate site and conducted an alternative shutdown procedure to avoid ignition danger.
Throughout the mission, Flight Lieutenant Medford demonstrated an outstanding and essential clarity of thought and exceptional leadership, judgement, skill and aviation awareness. He is a thoroughly deserving recipient of the Hugh Gordon-Burge Memorial Award.
Previous Winners:
1974/75 G W Crawford Esq
1976 - 1978 Not Awarded
1978/79 Captain F H Benton
1980 - 1981 Not Awarded
1981/82 Captain E H J Moody
1983 - 1986 Not Awarded
1986/87 Captain Peter Saxton
1987/88 Captain Shornsteimer
1988/89 Captain Dave Cronin
1989/90 FO A Atchinson Purser J Heward Stewardess S Prince Steward N Ogden Steward S Rodgers
1990/91 Captain Alfred L Haynes
1992 Not Awarded
1992/93 Captain I Berglund FO M Emery Flt. Engineer T N Boone
1994 Not Awarded
1994/95 Flight Lieutenant A J Stacey AFC RAF
1995/96 Crew of G-TIGK - Captain C J Roberts Senior First Oficer L J Sole
1996/97 Captain Leul Abate
1998 Not Awarded
1998/99 Flight Lieutenant Geoffrey Sheppard AFC & Flight Lieutenant Ian Brosch MA BSc
2000 Not awarded
2000/01 Captain Bill Hagan & SFO Philip Watson
2002 Not awarded
2002/03 Lieutenant Commander Neale Hargreaves MBE - Mission Commander of Dolphin 43
2003/04 Captain Eric Gennotte, FO Steeve Michielsen, FE Mario Rofail
2004/05 Captain Mark William Hoey
2005/06 Thierry Fautrel & Marie-Pascale Bulle of Air France AF 358 at Toronto Airport
2006/07 Kevin (George) Francis
2008 Not Awarded
2008/09 Ultimate 21 Flight in Afghanistan
2009/10 Flight Lieutenant Alex Townsend RAF
2010/11 Crew of Flight QF 032 (AIRBUS 380 VH-OQA)
2011/12 Flight Lieutenant N McCready BEng RAF & Flight Lieutenant L D Flemington DFC MSc BAv RAF
2012/13 Lieutenant Bryan Peterson USN
2013/14 Captain Malcolm Waters and First Officer David Hayhoe
2014/15 "Ugly 52" - Major Nicholas George English AAC and Captain Charles William Russell AAC
2016 Captian Richard Alvarez
2017 Flight Lieutenant Karl A Kinsler RAF
2018 Flight Lieutenant Ben Wallis AFC RAF
2019 Not Awarded
2020 Flight Lieutenant Paul Medford RAF