The true story of WWII bomber pilot John Evans' 114 days behind enemy lines
ISBN: 978 0 9558699 0 7
Author: Greg Lewis
Publisher: Newman Books, Stratford-upon- Avon CV37 6PT (01789 209172)
96 pp £7.99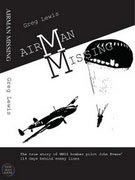 This short but interesting book is the story of John Evans, whose younger brother Douglas is a Guild member of very long standing. Like Doug, John Evans was a Halifax pilot based in Yorkshire. The story tells of his training in Britain and Canada, his operational flying in the early months of 1944 and the destruction of his aircraft, by a night fighter, over Belgium on a raid against enemy railways in the run-up to D-Day. Then began the essence of this story – the evasion from capture by John and most of his crew, with the very courageous help of many Belgian people, until eventually the allied front line reached them and they were liberated by American forces.
As well as being the story of how ordinary, young, allied airmen survived the rigours and uncertainties of being on the run, it is a tribute to the people of the escape organisations who were at very great risk of death if caught by the Germans. In particular the book gives an insight into the work of the famous Comet line. This line had been established by Andree de Jongh, one of Belgium's greatest heroines; indeed Dedee, as she was known (see Airey Neave's book 'Little Cyclone'), had already been betrayed and sent to Ravensbruck Concentration Camp. However, despite many perils and interruptions, of which this book provides a real flavour, the Comet line revived and carried on. John Evans and his colleagues had many moves of location and several 'close-calls', helped by numerous brave people. John was able to find again and keep in touch with many of them after the war.
I recommend this book as the interesting personal story of one man and a valuable record of a perilous time and the courage and hardship called for from allied airmen and their Belgian helpers.
Arthur Thorning