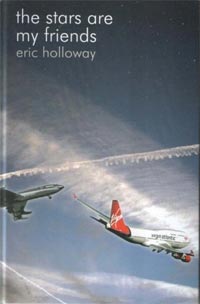 by Eric Holloway
Published by Serendipity
ISBN: 1843941708
This fascinating book, which covers the author's involvement in 50 years of aviation, and 20,000 flying hours which started during the Second World War in Wellingtons and Sunderlands, is almost unique in that it is written from the perspective of a professional navigator. The book covers in a fascinating and very readable style the history of long‑distance flights by passenger aircraft which were so very reliant on Astro navigation in the early days. The book also clearly illustrates the difficulties of long‑distance air travel in the late 40s and 50s and to a lesser degree in the 60s. Readers will feel the very real tension in the air as Erie Holloway graphically describes a Stratocruiser limping back to Shannon over the Atlantic disabled by a catastrophic engine failure, escorted by a Royal Air Force Shackleton with the passengers wearing lifevests and expecting an imminent ditching. The book also brings into very clear focus many of BOAC's earlier aircraft types including the York, the Hermes and the Argonaut which are largely forgotten today. Erie Holloway's story of flying five baby elephants in a York freighter from Bangkok to Heathrow for Billy Smart's Circus is an epic in itself, as are the narratives of crossing darkest Africa by Stratocruiser on dark and stormy nights.
This lively book also provides the reader with a fascinating summary of the introduction of inertial navigation systems and the challenges of polar flight. It provides an interesting insight into the utilisation of navigators within BOAC and their eventual replacement by pilots and technology. Readers will also be fascinated by the enthralling tale of the formation of British Atlantic Airways of which the author was one of the team of five. This lesser‑known airline was taken over by Richard Branson and his team to become Virgin Atlantic Airways with Eric Holloway remaining as the last member of that founding team to see the airline become one of the world's leading airlines and a close fierce rival to British Airways. Readers will be fascinated to learn some of the hitherto unpublished stories of the foundation of Virgin Atlantic Airways, its early initial close collaboration with British Airways and the difficulties faced by the management team in literally getting the airline "off the ground".
Eric Holloway is one of the most highly respected navigators in Civil Aviation and he has written an enthralling book which, once started, is difficult to put down. Its very easy to read narrative provides an excellent historical perspective of the development of Civil Aviation and is a quite remarkable tribute to the pioneers of early passenger flight in the post‑war period and the difficulties they faced.
Terry Holloway FRAeS