ISBN 978 184415 7396
By Susan Ottaway
Published by Pen and Sword Aviation.
£19.99 from bookshops or via www.pen-and-sword.co.uk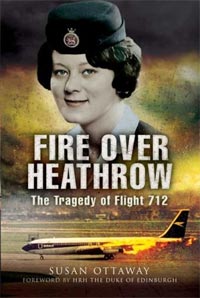 This is Susan Ottaway's sixth book, and like two of the others (A Life of Guy Gibson VC and Violette Szabo (GC) the Life that I Have) it pays tribute to someone who earned the highest award for courage and devotion to duty – in this case Barbara Jane Harrison, a BOAC Stewardess, who was awarded a posthumous George Cross for her actions on a burning Boeing 707 on 8 April 1968. Unlike the three other women, all SOE agents, who have been awarded the GC, Jane Harrison did not go to work expecting to risk her life. Although Jane Harrison could have saved herself she died trying to rescue a disabled passenger and a child, an action in the highest traditions of courage and duty by airline staff.
The book is graced by a foreword by HRH The Duke of Edinburgh, who witnessed the fiery flight of the Boeing from his window at Windsor Castle. The book will be of special interest to many Guild members who will have known some of the people involved, including Past Master John Hutchinson, a member of the crew of G-ARWE that day. Susan Ottaway has made the book a biography of Jane Harrison, an account of the accident as it affected the passengers and crew, and an analysis of the operational, technical and psychological aspects. She has researched the event and its aftermath thoroughly and has had help from very many of the people involved, although it is sad to note that her requests to British Airways for information were not answered.
I recommend this book both for its aviation interest and as an overdue tribute to a courageous young woman.
Arthur Thorning
24 April 2008