Malcolm G F White OBE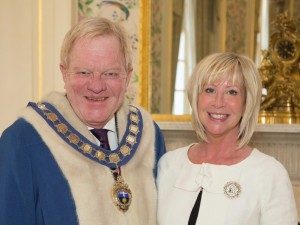 Malcolm was Installed as Master on 25 March 2019. He and his wife, Vanessa (or V as she is known) live in London. They have three children and three grandchildren.
Malcolm joined the Royal Air Force from school. His 30-year operational flying career was dominated by the Harrier with the additional delight of flying the Chinook, Puma and Gazelle helicopters. He held exchange appointments with the United States Marine Corps and the Royal Navy and flew a desk in the Ministry of Defence and other Headquarters. On leaving the RAF he joined Northrop Grumman for 7 years and is now a consultant to Leonardo Marconi Westland.
Malcolm was also a Trustee at the RAF Museum for 14 years and remains involved as an Ambassador; he led the team which delivered the Bomber Command Memorial in Green Park, London in 2012; and was heavily involved in the transformation of the RAF Museum ahead of the RAF Centenary in 2018.
Vanessa continues to work at the RAF Museum in a busy appointment which she has held since 1991. Together, they are immersed in the RAF and its heritage and both look forward to the privilege, challenge and joy of their year together as Master and Mistress of The Honourable Company of Air Pilots.