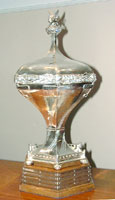 Awarded for an outstanding contribution to aviation safety.
2020 Awarded to: Master Air Engineer Stephen Hammond

Master Air Engineer Hammond transferred from 1st the Queen's Dragoons to the Royal Air Force and commenced training as an air engineer in 1987. After completing his initial training, he was posted to Nimrods at RAF St Mawgan where his personal and professional high standards were noted from the outset. By the end of this tour he was awarded an above average assessment and assigned to ground instruction duties at 6 Flying Training School.
Following promotion, he was posted to 216 Squadron flying TriStars in the Air Transport and AAR roles. Again, his strong work ethic was noted and within 18 months he was again assessed as operating to an above average standard, a notable achievement given the complexity of the air engineer's role on the TriStar. He flew on all the Squadron's operational AAR deployments and was notably the operating air engineer when his captain was awarded the DFC during Kosovo. He also gained additional qualifications as an air test engineer and flight instructor and co-authored the re-write of the TriStar Air Test Schedule. Undaunted by the command chain, he engaged with staff at the highest levels to develop the airman aircrew role and was promoted shortly thereafter to Master Air Engineer.
His professionalism, drive and commitment to the Air Force were rewarded with a posting to the NATO Boeing707 at Geilenkirchen where his extraordinary skills received comment from the NATO command chain. On completion of this assignment he was posted back to the TriStar to fill a manning shortfall. He quickly re-established his credentials and despite a year long injury which precluded him from flying, he was again selected for instructional duties and graded Combat Ready (Select).
Noting that 216 Squadron's Flight Data Monitoring (FDM) Office had become defunct and aware of its potential, he gained civilian accreditation and established a team of engineers and aircrew to reinvigorate this critical safety programme. He educated all elements of the Squadron on the benefits of this analytical tool, providing evidence in a quarterly report which he edited and produced. These reports not only described operating events but also provided potential causes for these effects allowing additional training to be focused, and also appropriate levels of supervision to be applied.
Following the retirement of the TriStar from operational service, Master Air Engineer Hammond recognised that knowledge of digital exploitation of flight data, crucial to a fully developed Safety Management System, would be lost across the Services. Noting that the BAe146 CMk3 is capable of producing flight data, he convinced the Command Chain of the benefits of retaining a small team to provide 32 Squadron with a similar product to that provided to 216 Squadron, thereby mitigating to a degree the loss of experienced pilots to the airlines from this fleet.
In order to enhance the use of FDM throughout the Services, he developed and assumed a Requirements Manager role for FDM, teaching himself the Crown Commercial Procurement Process, staffing the Concept of Use, Concept of Employment and the initial 2 Group FDM Policy which subsequently formed the basis for the RAF's FDM Policy. He championed the benefits of FDM across all aviation platforms, not only as a training and safety tool, but also as an engineering husbandry tool with associated maintenance and fuel cost savings. He also convinced senior leadership across the Services of the value of a functioning FDM system and persuaded the MAA to produce regulatory change.
He has also championed the safety, training and financial benefits of FDM to influential military and industry partners, assisting in the facilitation of FDM conferences to help inform and develop best practices. Additionally, he has delivered lectures to new aviation supervisors and commanders at the Military Aviation Authority's sponsored courses, explaining the value of a developed FDM system and how they can best exploit it. He is rightly acknowledged as the UK Military's FDM Subject Matter Expert in this field and his advice has been sought by 1 Group, the F-35 Force Commander, 1710 Naval Air Squadron as well as the Poseidon Delivery Team for information on how to best utilise FDM data gained from the UK's 5th generation fighter, Joint Helicopter Command's aircraft and the latest Maritime Patrol Aircraft. Additionally, through his initiative and foresight he has ensured that the military has retained essential personnel with expertise in aviation digital data exploitation to ensure a core capability and understanding of FDM use is available to advise senior leadership.
As the military enter a new decade with the latest generation of sophisticated aircraft, it is through the efforts and energy of Master Air Engineer Hammond and those he has inspired and advised that our latest combat aircraft and crews can enter the battle space having been well trained on their aircraft and that those aircraft are operated as safely and effectively as possible.
Master Air Engineer Hammond is a proven exceptional military aviator who has flown in all campaigns since Gulf War 1. His contribution to crew training and to flight safety now, and in the future, cannot be overstated, and he is accordingly awarded the Cumberbatch Trophy.
Previous Winners:
1936/37 Imperial Airways
Sqn Ldr H G Brackley DSO DSC, F J Bailey Esq, W Rodgers Esq AFM, F Dismore Esq,
LA Walters Esq, H J Horsey Esq, O P Jones Esq, A S Wilcockson Esq, A B H Youell Esq
1937/38 Olley Air Services
Captain G P Olley MM, T W Morton Esq, C W H Bebb Esq, F R Midgley Esq, R D Morrison Esq,
J Dendy Esq, G E B Stoney Esq, J E B Scott Esq
1938/39 Messers Wrightways Ltd
J W Duggan Esq, F Brent Esq, P C Fair Esq, G G Stead Esq
1948/49 Air Commodore H G Brackley CBE DSO DSC
1949/50 Aer Lingus
1950/51 No. 3 Line B.O.A.C.
1951/52 Tasman Empire Airways Limited
1952/53 Professor E S Calvert BSc ARSc
1953/54 British West Indian Airways
1954/55 Silver City Airways Ltd
1955/56 Captain W B Calldwell & Captain E W Jorden and Flying Staff, British European Airways, Channel Islands Services
1956/57 Malayan Airways Limited
1957/58 Trans-Australian Airlines
1959/60 James Martin Esq CBE
1960/61 Royal Air Force, Institute of Aviation Medicine
1961/62 Aden Airways Limited
1962/63 D P Davies Esq
1963/64 Blind Landing Experimental Unit of the Royal Aircraft Establishment
1964/65 John Wright Gibbs Esq MBE (posthumous)
1965/66 Britannia 102 + 312 Flights BOAC
1966/67 Dr E S Calvert OBE & J W Sparks Esq
1967/68 W E B Griffiths Esq CBE
1968/69 J A Karran Esq OBE
1969/70 Captain E N Jennings MBE DFC
1970/71 Qantas Airways Limited
1971/72 Captain Frank Ormonroyd DFM MA & Captain Eric L R Poole
1972/73 John W Wilson Esq
1973/74 J F M Moyle Esq
1974/75 John Henri Grant Esq
1975/76 S Gordon Corps Esq
1976/77 Joint Airmiss Working Group (Chairman: Group Captain David Hughes DFC AFC)
1978 Not Awarded
1978/79 Captain Frank H Hawkins
1979/80 Captain Philip Brentnall DFC
1980/81 John Michael Ramsden Esq
1981/82 VC10 Flight of British Airways
1982/83 Captain T L J Lakin W H Grice Esq Captain P J Hunt (British Airways 'All Weather' Team)
1984 - 1989 Not Awarded
1989/90 Qantas Airways Limited
1991 - 1992 Not Awarded
1992/93 Ronald Ashford Esq
1993/94 Ken M Carpenter PhD
1994/95 William D Reynard Esq
1995/96 British Airways Safety Services
1996/97 Don Bateman Esq
1998 Not Awarded
1999/2000 John Thorpe MRAeS
2000/01 R Curtis Graeber PhD FRAeS
2001/02 S Eric Clark BSc CEng FRAeS
2003 Not Awarded
2003/04 Alan R Jacobsen PhD
2004/05 Stuart Mathews
2005/06 Kathy Abbott PhD MSc FRAeS
2007 - 2010 Not Awarded
2010/11 James Ray Klinect PhD and the LOSA Collaborative
2011/12 Harbour Air Seaplanes
2013 - 2014 Not Awarded
2014/15 Hugh Browning
2016 Not Awarded
2017 Commander Ian S Fitter RN
2018 Michael O'Donoghue CBE
2019 Warrant Officer Class One Peter R Balcomb AAC
2020 Master Air Engineer Stephen Hammond