The Cumberbatch Trophy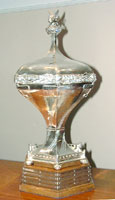 Awarded for an outstanding contribution to aviation safety.
2018 awarded to: Michael O'Donoghue CBE

Mike O'Donoghue had a distinguished career in the Army Air Corps as a pilot, flying instructor, commander and staff officer. His final appointment was as Commandant of tri-service Defence Helicopter Flying School at RAF Shawbury. Following his retirement Mike was appointed as the Chief Executive of GASCo in 2010.
Apart from monitoring the production of the GASCo quarterly magazine, 'Flight Safety', and its on-line equivalent 'Flight Safety Extra', Mike has had all the usual responsibilities of a CE, such as staffing, budgets, annual reports, representing GASCo on appropriate committees and linking with similar organisation worldwide. Above all he has a responsibility for ensuring that the objectives and aims of the Board and Council are met.
The enormous strides made by GASCo over the past eight years and the very high regard in which it is held by the GA community is very much due to the commitment, hard work and interpersonal skills of an outstanding Chief Executive.
However his most impressive achievement has been in the field of GA flight safety where his contribution has been outstanding.
Shortly before he joined GASCo the CAA had announced that it was to stop direct involvement in organizing and running their Flight Safety Evenings (FSEs). The GASCo Board decided that FSEs were an important part of flight safety and therefore GASCo successfully negotiated with the CAA to continue running FSEs under contract. On taking over as CE Mike's immediate task was to recruit Regional Safety Officers (RSOs) to cover the country and to devise a GASCo format for the FSEs. This he did with such energy and enthusiasm that seven RSOs were quickly recruited and trained and year on year the number of FSEs increased to well in excess of the number contracted to the CAA. One has even been delivered in Australia where a RSO, whose day job is as an airline pilot, had a stopover.
In addition to the FSEs Mike continues to organize a series of Flight Safety Seminars. The annual Weather Seminar at the Met Office is usually over-subscribed and the Sea Survival Seminar held in conjunction with the RNLI is also very popular.
The CAA has recently worked with GASCo to develop an Airspace Infringement Awareness Course'. This is a unique training package offered to pilots who have made a minor infringement of controlled airspace and GASCo has been contracted by the CAA with delivery of these day long courses.
For his outstanding contribution to aviation safety, during an extensive aviation career, Mike O'Donoghue is awarded the Cumberbatch Trophy.
Previous Winners:
1936/37 Imperial Airways
Sqn Ldr H G Brackley DSO DSC, F J Bailey Esq, W Rodgers Esq AFM, F Dismore Esq,
LA Walters Esq, H J Horsey Esq, O P Jones Esq, A S Wilcockson Esq, A B H Youell Esq
1937/38 Olley Air Services
Captain G P Olley MM, T W Morton Esq, C W H Bebb Esq, F R Midgley Esq, R D Morrison Esq,
J Dendy Esq, G E B Stoney Esq, J E B Scott Esq
1938/39 Messers Wrightways Ltd
J W Duggan Esq, F Brent Esq, P C Fair Esq, G G Stead Esq
1948/49 Air Commodore H G Brackley CBE DSO DSC
1949/50 Aer Lingus
1950/51 No. 3 Line B.O.A.C.
1951/52 Tasman Empire Airways Limited
1952/53 Professor E S Calvert BSc ARSc
1953/54 British West Indian Airways
1954/55 Silver City Airways Ltd
1955/56 Captain W B Calldwell & Captain E W Jorden and Flying Staff, British European Airways, Channel Islands Services
1956/57 Malayan Airways Limited
1957/58 Trans-Australian Airlines
1959/60 James Martin Esq CBE
1960/61 Royal Air Force, Institute of Aviation Medicine
1961/62 Aden Airways Limited
1962/63 D P Davies Esq
1963/64 Blind Landing Experimental Unit of the Royal Aircraft Establishment
1964/65 John Wright Gibbs Esq MBE (posthumous)
1965/66 Britannia 102 + 312 Flights BOAC
1966/67 Dr E S Calvert OBE & J W Sparks Esq
1967/68 W E B Griffiths Esq CBE
1968/69 J A Karran Esq OBE
1969/70 Captain E N Jennings MBE DFC
1970/71 Qantas Airways Limited
1971/72 Captain Frank Ormonroyd DFM MA & Captain Eric L R Poole
1972/73 John W Wilson Esq
1973/74 J F M Moyle Esq
1974/75 John Henri Grant Esq
1975/76 S Gordon Corps Esq
1976/77 Joint Airmiss Working Group (Chairman: Group Captain David Hughes DFC AFC)
1978 Not Awarded
1978/79 Captain Frank H Hawkins
1979/80 Captain Philip Brentnall DFC
1980/81 John Michael Ramsden Esq
1981/82 VC10 Flight of British Airways
1982/83 Captain T L J Lakin W H Grice Esq Captain P J Hunt (British Airways 'All Weather' Team)
1984 - 1989 Not Awarded
1989/90 Qantas Airways Limited
1991 - 1992 Not Awarded
1992/93 Ronald Ashford Esq
1993/94 Ken M Carpenter PhD
1994/95 William D Reynard Esq
1995/96 British Airways Safety Services
1996/97 Don Bateman Esq
1998 Not Awarded
1999/2000 John Thorpe MRAeS
2000/01 R Curtis Graeber PhD FRAeS
2001/02 S Eric Clark BSc CEng FRAeS
2003 Not Awarded
2003/04 Alan R Jacobsen PhD
2004/05 Stuart Mathews
2005/06 Kathy Abbott PhD MSc FRAeS
2007 - 2010 Not Awarded
2010/11 James Ray Klinect PhD and the LOSA Collaborative
2011/12 Harbour Air Seaplanes
2013 - 2014 Not Awarded
2014/15 Hugh Browning
2016 Not Awarded
2017 Commander Ian S Fitter RN
2018 Michael O'Donoghue CBE