The Cumberbatch Trophy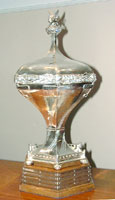 Awarded for an outstanding contribution to aviation safety.
2019 awarded to: Warrant Officer Class One Peter R Balcomb AAC
WO1 Peter Balcomb is currently employed in the Army Air Corps' Attack Helicopter Force (AHF) and has been exceptional as the Air Safety Manager since March 2012. Far beyond the supporting role he should have assumed on a Full-Time Reserve Service (FTRS) engagement, he has stepped up to lead the AHF Air Safety Team (AST) over a frenetic period, and take full responsibility for Apache Air Safety policy, objectives, risk management and assurance on behalf of the Delivery Duty Holder (DDH). His role is currently being enriched to the rank of Major and it will take a talented individual to match WO1 Balcomb's superb performance in this role.
WO1 Balcomb navigated the AHF through the early years of the Military Aviation Authority; embracing change he was outstanding at turning complex regulation into practical and sustainable processes, which he captured in the AHF Air Safety Management Plan (ASMP). The AHF ASMP has been commended in MAA and 2* assurance inspections and continues to exemplify both pragmatism and compliance. The improvements he directed in safety assurance were singled out for praise in external audits. He has also been quick to exploit the benefits of 'Bowtie' risk assessment methods and has capitalised on this investment by driving the 'Bowtie' review into the unit commanders' dynamic risk assessments, required for aviation Collective Training. WO1 Balcomb has designed and delivered the AHF Error Management System (EMS).
He drove Baines-Simmons Human Factor and Error Management training deep into the Force and ensured that investigators and coordinators were trained from across the aviation community – he has an eye for engagement and resilience. WO1 Balcomb has recently unlocked the Apache Air System Safety Case challenge for the DDH. Having digested highly-detailed regulation, he identified a deliverable DDH strategy which centres on the safety argument approach and incorporates a safety assessment of the Defence Lines of Development. His approach to the Safety Case has already caught the eye of the MAA as another example of best practice. In addition to Air Safety management, WO1 Balcomb has also led on the AHF's Regional Post Crash Management responsibilities, and has generated, planned and delivered several major response exercises involving external agencies and specialist support (e.g. simulated nuclear incident). He, and the team, received strong praise and commendations from the regional RAFLO and other players.
Whilst the AHF AST is small in comparison to other JHC Forces, under his leadership, the team has produced a commendable output. As a result, the AHF AST has not only endured, it continues to advance and push improvements across the Force. He has guided and mentored the unit Air Safety Officers to become key members of the unit level planning teams. His experience and credibility are recognised and trusted in HQ JHC, often briefing Commander JHC in support of Commander AHF. He is not aircrew but a ground subject matter expert; as an ex
AAC Master Ground Crewman in Army Aviation Standards, he has had no problem communicating brilliantly across the 4-worlds of aviation, and this is perhaps his stand-out attribute. He has shouldered the burden of being at the heart of risk management and carried personal responsibility, protecting many lives by consistently stepping into the fight. He has remained positive, good-humoured and inspirational throughout.
The culmination of his tireless and highly effective Air Safety leadership has been very positive feedback following the recent MAA audit inspection, which singled out the way AHF had developed pragmatic and locally tuned processes to deliver safety performance and assurance. He has punched well beyond his rank and his terms of service and has made an exceptional contribution to Attack Helicopter capability through safety. He is very deserving of recognition and is accordingly awarded the Cumberbatch Trophy for an outstanding contribution to aviation safety.
Previous Winners:
1936/37 Imperial Airways
Sqn Ldr H G Brackley DSO DSC, F J Bailey Esq, W Rodgers Esq AFM, F Dismore Esq,
LA Walters Esq, H J Horsey Esq, O P Jones Esq, A S Wilcockson Esq, A B H Youell Esq
1937/38 Olley Air Services
Captain G P Olley MM, T W Morton Esq, C W H Bebb Esq, F R Midgley Esq, R D Morrison Esq,
J Dendy Esq, G E B Stoney Esq, J E B Scott Esq
1938/39 Messers Wrightways Ltd
J W Duggan Esq, F Brent Esq, P C Fair Esq, G G Stead Esq
1948/49 Air Commodore H G Brackley CBE DSO DSC
1949/50 Aer Lingus
1950/51 No. 3 Line B.O.A.C.
1951/52 Tasman Empire Airways Limited
1952/53 Professor E S Calvert BSc ARSc
1953/54 British West Indian Airways
1954/55 Silver City Airways Ltd
1955/56 Captain W B Calldwell & Captain E W Jorden and Flying Staff, British European Airways, Channel Islands Services
1956/57 Malayan Airways Limited
1957/58 Trans-Australian Airlines
1959/60 James Martin Esq CBE
1960/61 Royal Air Force, Institute of Aviation Medicine
1961/62 Aden Airways Limited
1962/63 D P Davies Esq
1963/64 Blind Landing Experimental Unit of the Royal Aircraft Establishment
1964/65 John Wright Gibbs Esq MBE (posthumous)
1965/66 Britannia 102 + 312 Flights BOAC
1966/67 Dr E S Calvert OBE & J W Sparks Esq
1967/68 W E B Griffiths Esq CBE
1968/69 J A Karran Esq OBE
1969/70 Captain E N Jennings MBE DFC
1970/71 Qantas Airways Limited
1971/72 Captain Frank Ormonroyd DFM MA & Captain Eric L R Poole
1972/73 John W Wilson Esq
1973/74 J F M Moyle Esq
1974/75 John Henri Grant Esq
1975/76 S Gordon Corps Esq
1976/77 Joint Airmiss Working Group (Chairman: Group Captain David Hughes DFC AFC)
1978 Not Awarded
1978/79 Captain Frank H Hawkins
1979/80 Captain Philip Brentnall DFC
1980/81 John Michael Ramsden Esq
1981/82 VC10 Flight of British Airways
1982/83 Captain T L J Lakin W H Grice Esq Captain P J Hunt (British Airways 'All Weather' Team)
1984 - 1989 Not Awarded
1989/90 Qantas Airways Limited
1991 - 1992 Not Awarded
1992/93 Ronald Ashford Esq
1993/94 Ken M Carpenter PhD
1994/95 William D Reynard Esq
1995/96 British Airways Safety Services
1996/97 Don Bateman Esq
1998 Not Awarded
1999/2000 John Thorpe MRAeS
2000/01 R Curtis Graeber PhD FRAeS
2001/02 S Eric Clark BSc CEng FRAeS
2003 Not Awarded
2003/04 Alan R Jacobsen PhD
2004/05 Stuart Mathews
2005/06 Kathy Abbott PhD MSc FRAeS
2007 - 2010 Not Awarded
2010/11 James Ray Klinect PhD and the LOSA Collaborative
2011/12 Harbour Air Seaplanes
2013 - 2014 Not Awarded
2014/15 Hugh Browning
2016 Not Awarded
2017 Commander Ian S Fitter RN
2018 Michael O'Donoghue CBE
2019 Warrant Officer Class One Peter R Balcomb AAC