Awarded for outstanding service in the air, at the discretion of the Master.
(amended Terms of Reference 2019)
2021 awarded to: Major Kevin Anderson AAC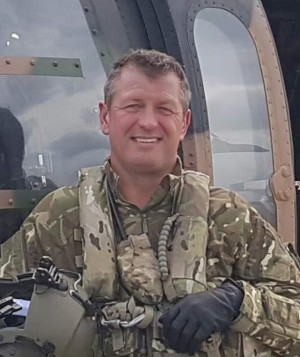 Major Anderson is an exceptionally experienced A2 Qualified Helicopter Instructor (QHI), instrumental in the development of peers and subordinates across Army Aviation. This citation marks 30 years, circa 6000 flying hours across five helicopter platforms and dedication to aviation instruction and assurance. He is truly a master in his field.
Initially qualifying on Gazelle in 1992, Maj Anderson spent the next 11 years in and out of Northern Ireland (NI) on Operation Banner, including several voluntary six-month tours. In 1994 he achieved aircraft commander status and in 1996, given his already vast experience and natural flying ability, was selected for operations in support of UK Special Forces in NI. He commissioned in 2006 and was appointed the Rotary Wing Project Officer, Handling Sqn at MOD Boscombe Down. He completed a Squirrel conversion while concurrently instructing on Gazelle and Lynx.
Completing the QHI Course in 2009, Maj Anderson was appointed Second in Command, 671 Sqn delivering Lynx conversion and refresher courses. He proved to be a highly talented QHI, maintaining a very high flying rate and making significant contributions to the generation of pilots in support of Operations HERRICK and TELIC.
Maj Anderson completed Lynx Mk9A conversion in 2012, he was appointed Training Officer of 657 Sqn supporting UKSF domestic and overseas commitments. Over six years he deployed to Oman, Norway, Belize, Afghanistan twice on Operation LANDSBURY and to Kabul as the PJHQ Rotary Wing Safety Standards Officer. Whilst deploying on every major Sqn exercise and developing new and established Sqn members, he also achieved A2 upgrade confirming his QHI capacity and capabilities. He was instrumental in ensuring the unit achieved a Very Satisfactory grade during the JHC Single Service Standards Inspection. This is noteworthy as these achievements were set against the Sqn's return from operations, manpower pressures and maintenance of Very High Readiness in support of UK Counter Terrorism.
Completing Bell Conversion in 2018, Maj Anderson was appointed Officer Commanding Conversion Flight, delivering Gazelle and Bell 212 conversion and refresher courses. He deployed to Brunei and continued as an outstanding leader and highly professional instructor ensuring aviation Force Generation supported both the UKSF and Security Forces in NI and Brunei Garrison's jungle MEDEVAC capability.
Recognising Maj Anderson's ability and diligence, he was appointed Regimental QHI (FIND) in 2020. He is the principal aviation subject matter expert for Gazelle and Bell 212 operations and is directly responsible to the Senior Operator for first party assurance, standardisation and supervision. More recently, he has held the Senior Operator position answering directly to the Delivery Duty Holder.
Major Anderson's full military aviation career is an exemplary display of selfless commitment and dedication. He is an experienced operator, truly professional and a highly capable instructor. As a leader, coach and mentor he has been pivotal in the development of subordinates and peers across a wide range of platforms. His service record and contribution to UK Defence has been outstanding. For his long and outstanding service and devotion to duty in the air, Major Kevin Anderson is awarded the Master's Commendation.
Previous Winners:
1977/78 Squadron Leader R Penny
1978/79 Mr Asad Nasr on behalf of Middle East Airlines
1979/80 Charles Nicholas Hoy Esq
Hikmat M Ghosn
1981 - 1982 Not Awarded
1982/83 Alan Bramson Esq
Arthur E Gibson Esq
Eric H Woods Esq
1984 Not Awarded
1984/85 J R Kilner Esq & P Bonhomme Esq
1986 - 1987 Not Awarded
1987/88 First Officer Mimi Tompkins
1988/89 First Officer G Slader & Second Officer M Thomas of United Airlines
Wing Commander M C Brooke
Captain T F P Frizell
1989/90 A E Donlan Esq
1990/91 G P Sanctuary Esq
Captain J Sirley
1991/92 Robert Legg Esq
1992/93 Mrs Constance E Fricker
1994 Not Awarded
1994/95 Professor Angus Wallace & Dr. Tom Wong
Miss Tracey Leigh Signal
1995/96 Captain Peter Bugge & Captain John Robinson
1996/97 Flight Lieutenant Michael J Chatterton
1997/98 Malcolm Mason Esq
1998/99 Wing Commander Simon Meade
1999/2000 Captain Neville Grady
2000/01 Flight Lieutenant Rodney Leigh
Captain John Savage
2001/02 Andrew Digby Esq
2002/03 Roger H Beazley Esq
2003/04 Squadron Leader Malcolm Hunt RAF
2005 Not Awarded
2005/06 Captain Ralph Kohn
2006/07 Victor Lockwood
2007/08 Squadron Leader Warwick Creighton MBE RAF
2008/09 Squadron Leader Alastair Pinner MBE RAF
Captain Roland "Rolie" James DSM(Oman) BA(Hons)
2009/10 The Air Cadet Organisation
2010/11 656 Squadron Group AAC
Miss Mandy Pantall
2011/12 Flight Lieutenant D J "Jack" Hawkins RAFR
Garry Stanfield Smith
2012/13 The British Helicopter Team 2012
2013/14 Major Mark Martin AAC
Royal Australian Air Force Air Mobility Group
2014/15 Lieutenant Commander Chris Götke AFC RN
Royal Air Force Air Traffic Management Force
2016 Major Jean G R Leroux CD
2017 Captain Rosella Bjornson
Lieutenant Colonel Kevin M Hall USAF
2018 Group Captain John Middleton OBE RAF
Squadron Leader Mike Ling MBE RAF
Major Dennis W Sharf CD
2019 Flight Lieutenant Christopher Stradling RAF
2020 Master Aircrew Tudor Haines
2021 Major Kevin Anderson AAC