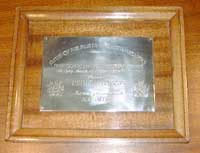 Awarded to a member or members of a crew whose outstanding behaviour and action contributed to the saving of their aircraft or passengers.
2021 Awarded to: Crew of 'TALON 42' - Maj Christopher Summerlin, Maj Thomas Klusker, Capt Timothy Bush, 1Lt Juan Hass, TSgt Gregory Seider, SSgt Adam Chudnofsky, SSgt Cera Wollgast, SrA Jonathan Cervantes

The crew of 'Talon 42' distinguished themselves by extraordinary achievement in support of 'Op Inherent Resolve' from 7 January 2020 to 8 January 2020. During this time, the aircrew of 'Talon 42' courageously operated their MC-130H in a degraded state to evacuate military personnel from a base in Iraq, before Iranian theatre ballistic missiles impact.
On the evening of 7 January, 'Talon 42' was one of six aircrews alerted to participate in the mass evacuation of an Iraqi air base, which was determined to be one of the primary targets of an Iranian missile attack. 'Talon 42' was airborne within 45 minutes from initial notification with an aircraft gross weight 10 thousand pounds heavier than the maximum recommended. They knew only to fly to the air base and rescue as many personnel as possible. Once airborne, the crew of 'Talon 42' successfully negotiated a critical time-saving route, reducing the evacuation timeline by 90 minutes, which would have put all aircraft involved on the ground at the Iraqi air base during missile impact.
While enroute to the air base, the MC- 130H aircraft experienced an entire loss of avionics and navigational capabilities due to complete computer failure within the aircraft. After handling initial actions for the emergency, the crew determined the extreme priority of the mission outweighed the technical order guidance which suggested mission termination. As a result, they accepted the risk associated with degraded aircraft systems and continued to the Iraqi air base. Upon landing at the Iraqi air base, the crew of 'Talon 42' loaded 93 personnel and cargo, 37 more than technical guidance allows, which made fuel requirements more critical. After take-off, challenges further compounded when 'Talon 42's' intended point of landing, Ali Al Salem Air Base, was reported to be under threat of imminent attack. With no aerial refuelling options available, 'Talon 42 'made the decision to immediately divert to Kuwait International Airport.
Enroute to Kuwait International, the crew of 'Talon 42' was forced to declare "due regard" as they were critically low on fuel and the approach controller would not expedite their landing clearance. After having safely landed and refuelled, 'Talon 42' was notified that Ali Al Salem was cleared of the missile threat. They then proceeded to Ali Al Salem to disembark the rescued personnel.
'Talon 42' completed this planned 16-hour mission in under 12 hours ensuring safety from imminent Iranian ballistic missile attack. Their quick thinking and superior airmanship resulted in the safety of a total of 101 Joint Special Operations Forces personnel during that period of darkness. The professional competence, aerial skill, and devotion to saving the lives of others displayed by 'Talon 42' is deserving of recognition by the award of the Hugh Gordon-Burge Memorial Award.
Previous Winners:
1974/75 G W Crawford Esq
1976 - 1978 Not Awarded
1978/79 Captain F H Benton
1980 - 1981 Not Awarded
1981/82 Captain E H J Moody
1983 - 1986 Not Awarded
1986/87 Captain Peter Saxton
1987/88 Captain Shornsteimer
1988/89 Captain Dave Cronin
1989/90 FO A Atchinson Purser J Heward Stewardess S Prince Steward N Ogden Steward S Rodgers
1990/91 Captain Alfred L Haynes
1992 Not Awarded
1992/93 Captain I Berglund FO M Emery Flt. Engineer T N Boone
1994 Not Awarded
1994/95 Flight Lieutenant A J Stacey AFC RAF
1995/96 Crew of G-TIGK - Captain C J Roberts Senior First Oficer L J Sole
1996/97 Captain Leul Abate
1998 Not Awarded
1998/99 Flight Lieutenant Geoffrey Sheppard AFC & Flight Lieutenant Ian Brosch MA BSc
2000 Not awarded
2000/01 Captain Bill Hagan & SFO Philip Watson
2002 Not awarded
2002/03 Lieutenant Commander Neale Hargreaves MBE - Mission Commander of Dolphin 43
2003/04 Captain Eric Gennotte, FO Steeve Michielsen, FE Mario Rofail
2004/05 Captain Mark William Hoey
2005/06 Thierry Fautrel & Marie-Pascale Bulle of Air France AF 358 at Toronto Airport
2006/07 Kevin (George) Francis
2008 Not Awarded
2008/09 Ultimate 21 Flight in Afghanistan
2009/10 Flight Lieutenant Alex Townsend RAF
2010/11 Crew of Flight QF 032 (AIRBUS 380 VH-OQA)
2011/12 Flight Lieutenant N McCready BEng RAF & Flight Lieutenant L D Flemington DFC MSc BAv RAF
2012/13 Lieutenant Bryan Peterson USN
2013/14 Captain Malcolm Waters and First Officer David Hayhoe
2014/15 "Ugly 52" - Major Nicholas George English AAC and Captain Charles William Russell AAC
2016 Captain Richard Alvarez
2017 Flight Lieutenant Karl A Kinsler RAF
2018 Flight Lieutenant Ben Wallis AFC RAF
2019 Not Awarded
2020 Flight Lieutenant Paul Medford RAF
2021 Crew of TALON 42