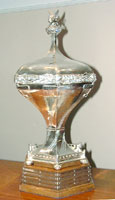 Awarded for an outstanding contribution to aviation safety.
2021 Awarded to: Tim Tucker

In 1982 the founder of Robinson Helicopters, Frank Robinson, was delighted that a large proportion of sales were to pilots who had been taught on the R22 (his first design) and then decided to buy so they were in general very low hour pilots. He had the foresight to realise that it was essential for the continuing success of his fledgling company building this relatively cheap machine, affordable to the many as opposed to the few, to ensure the pilots were properly trained both at the initial stage but just as importantly, on a continuing basis.
Tim Tucker purchased R22 s/n 003 for his helicopter flight school, and almost immediately Frank appointed him to start and then run until this present day, some 35 years later, the very well-regarded Robinson factory sponsored 4-day Safety Course; Tim has now had over 18,000 attendees on these courses. His first overseas course was in 1992 in South Africa and since then he has run a further well in excess of 120 overseas courses, in 35 countries and 57 cities over the intervening years. In the words of one UK editor/pilot, who has twice undertaken this course, "Tim has turned the course into the gold standard in the field. He has a well-practised knack of hitting the nail on the head and making the 'student' think deeply about why you do what you do". The Executive Chairman of a major helicopter training and maintenance organisation is quoted as saying "Tim Tucker has probably done more for helicopter safety than any man alive. He has mentored with compassion every junior pilot he has ever met".
In addition to his distinguished work with Robinson, Tim has authored many articles and books on safety too numerous to mention in this citation and has received several prestigious awards and four FAA Certificates of Recognition. He has been instrumental in promoting the Vuichard technique for Vortex Ring recovery, a major cause of helicopter accidents. Over his 37 years with the US Army (active and reserve) he achieved a multitude of Awards and Decorations, and sits on the US Helicopter Safety Team Executive Committee. The richness and depth of his 'Tim Tucker's Helicopter World' website gives the reader an insight into the concepts and principles that Tim continues to expound. He is a very deserving winner of the Cumberbatch Trophy.
Previous Winners:
1936/37 Imperial Airways
Sqn Ldr H G Brackley DSO DSC, F J Bailey Esq, W Rodgers Esq AFM, F Dismore Esq,
LA Walters Esq, H J Horsey Esq, O P Jones Esq, A S Wilcockson Esq, A B H Youell Esq
1937/38 Olley Air Services
Captain G P Olley MM, T W Morton Esq, C W H Bebb Esq, F R Midgley Esq, R D Morrison Esq,
J Dendy Esq, G E B Stoney Esq, J E B Scott Esq
1938/39 Messers Wrightways Ltd
J W Duggan Esq, F Brent Esq, P C Fair Esq, G G Stead Esq
1948/49 Air Commodore H G Brackley CBE DSO DSC
1949/50 Aer Lingus
1950/51 No. 3 Line B.O.A.C.
1951/52 Tasman Empire Airways Limited
1952/53 Professor E S Calvert BSc ARSc
1953/54 British West Indian Airways
1954/55 Silver City Airways Ltd
1955/56 Captain W B Calldwell & Captain E W Jorden and Flying Staff, British European Airways, Channel Islands Services
1956/57 Malayan Airways Limited
1957/58 Trans-Australian Airlines
1959/60 James Martin Esq CBE
1960/61 Royal Air Force, Institute of Aviation Medicine
1961/62 Aden Airways Limited
1962/63 D P Davies Esq
1963/64 Blind Landing Experimental Unit of the Royal Aircraft Establishment
1964/65 John Wright Gibbs Esq MBE (posthumous)
1965/66 Britannia 102 + 312 Flights BOAC
1966/67 Dr E S Calvert OBE & J W Sparks Esq
1967/68 W E B Griffiths Esq CBE
1968/69 J A Karran Esq OBE
1969/70 Captain E N Jennings MBE DFC
1970/71 Qantas Airways Limited
1971/72 Captain Frank Ormonroyd DFM MA & Captain Eric L R Poole
1972/73 John W Wilson Esq
1973/74 J F M Moyle Esq
1974/75 John Henri Grant Esq
1975/76 S Gordon Corps Esq
1976/77 Joint Airmiss Working Group (Chairman: Group Captain David Hughes DFC AFC)
1978 Not Awarded
1978/79 Captain Frank H Hawkins
1979/80 Captain Philip Brentnall DFC
1980/81 John Michael Ramsden Esq
1981/82 VC10 Flight of British Airways
1982/83 Captain T L J Lakin W H Grice Esq Captain P J Hunt (British Airways 'All Weather' Team)
1984 - 1989 Not Awarded
1989/90 Qantas Airways Limited
1991 - 1992 Not Awarded
1992/93 Ronald Ashford Esq
1993/94 Ken M Carpenter PhD
1994/95 William D Reynard Esq
1995/96 British Airways Safety Services
1996/97 Don Bateman Esq
1998 Not Awarded
1999/2000 John Thorpe MRAeS
2000/01 R Curtis Graeber PhD FRAeS
2001/02 S Eric Clark BSc CEng FRAeS
2003 Not Awarded
2003/04 Alan R Jacobsen PhD
2004/05 Stuart Mathews
2005/06 Kathy Abbott PhD MSc FRAeS
2007 - 2010 Not Awarded
2010/11 James Ray Klinect PhD and the LOSA Collaborative
2011/12 Harbour Air Seaplanes
2013 - 2014 Not Awarded
2014/15 Hugh Browning
2016 Not Awarded
2017 Commander Ian S Fitter RN
2018 Michael O'Donoghue CBE
2019 Warrant Officer Class One Peter R Balcomb AAC
2020 Master Air Engineer Stephen Hammond
2021 Tim Tucker