Awarded for outstanding performance in the operation of airborne or space systems, manned or unmanned.
(amended Terms of Reference 2019)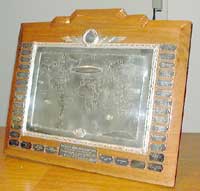 2021 Awarded to: The Royal Air Force Sentinel Force

Sentinel was introduced into Royal Air Force service with V (Army Co-operation) Squadron in 2007 before flying its first operational mission in 2008 on 'OP Herrick' over Afghanistan, offering clear and timely understanding of the ground environment through an airborne stand-off radar capability. Sentinel has repeatedly surpassed commanders' expectations, earning itself a unique place in the UK's military contribution to warfighting and peace support operations around the world, including in Europe, Libya, sub-Saharan Africa, Iraq and Syria.
In January 2021, Sentinel flew its final deployed operational sortie from Cyprus on 'OP Shader' – the UK's contribution to the Counter-Daesh Coalition in Iraq and Syria. Writing on the occasion of its withdrawal, the UK's Chief of Joint Operations, Vice Admiral Sir Ben Key, cited Sentinel's invaluable life-saving contribution to operations, adding, 'Right to the end of its commission, V(AC) Squadron has been a constant among my deployed Force Elements. It is a record to be proud of.' The Commander of the United States' 9th Air Force and Air Force Central Commander, Lieutenant General Gregory Guillot, also commended Sentinel, remarking that, 'Sentinel has been a vital RAF contribution to Coalition operations…providing tipping and cueing for potential threats across the Levant, Libya and Mali.'
Coinciding with much of the Force's deployed time on 'OP Shader', Sentinel aircraft maintained a relentless programme of strategic reconnaissance missions for NATO on the Alliance's eastern flank, flying from RAF Waddington. Tasking accelerated as the aircraft approached its 2021 retirement, its radar precisely picking out the displacement and identities of naval, air and land-based units in all weathers. It was a fitting finale for a capability that had earned its spurs in the skies over Afghanistan; having innovatively mapped the dreadful flooding in England in 2007; provided vital intelligence during intense air operations over Libya; and, in response to the kidnapping of the Chibok schoolgirls in Nigeria, and in order to counter the uprising of Violent Extremist Organisations in the country, deploying and subsequently mapping the whole of Nigeria within 10 sorties using its airborne radar – a unique effort of intelligence collect while accomplishing UK diplomacy.
By any standard, Sentinel's achievements have been consistently remarkable. With an unmatched serviceability record, it has flown over 32,000 hours in almost 5,000 sorties, the majority being on operations.
Underpinning the Squadron's successes have been the tireless endeavours of all those involved in the Sentinel Force, from support elements at RAF Waddington and Defence Equipment and Support, to the unstinting assistance of Raytheon Systems Limited. Aries Flight within 1 Intelligence Surveillance and Reconnaissance Wing merits special mention. For years, it has played a pivotal and equal role with V(AC) Squadron in exploiting Sentinel's output, providing a forensic view of the data significantly enhancing the output of the Squadron and complimenting the near-real-time analysis provided by the mission crew.
In recognition of its unparalleled contribution to Royal Air Force, NATO and Coalition operations over the past fourteen years, the Sentinel Force is awarded the Johnston Memorial Trophy.
Previous Winners:
1931 Sir Francis Chichester
1932 Squadron Leader Herbert/ J L Hinkler Esq
1933 J A Mollison Esq
1934 Not Awarded
1935 E W Percival Esq
1936 Miss Jean Batten
1937 A S Wilcockson Esq
1938 D C T Bennett Esq
1940 - 1948 Not Awarded
1948/49 W H Crowther Esq/ R B Tapp Esq/ L R Ambrose Esq QANTAS
1949/50 Captain P G Taylor
1951 Not Awarded
1950/51 Captain P G Taylor
1952 Not Awarded
1951/52 Captain P G Taylor
1952/53 Captains and Crew of Service Aircraft "Aries"
1953/54 Pilots and Navigators of Comet Fleet BOAC
1955 Not Awarded
1955/56 Captain J H Saffery and Pilots and Navigators of Hunting Aero Surveys on Antartic Expedition
1956/57 Squadron Leader J H Lewis, Commanding the RAF Detachment Unit with the British Commonwealth Trans-Antartic Expedition
1957/58 Captain and Navigational Crews of the Aircraft and Armament Experimental Establishment
1959/60 The Decca Navigator Company Limited
1961 Not Awarded
1961/62 G E Beck Esq, M Morgan Esq of Marconi's Wireless Telegraph Co.
1962/63 Wing Commander D F H Grocott
1964 - 1967 Not Awarded
1967/68 Wing Commander E W Anderson
1969 - 1973 Not Awarded
1973/74 Flt Lt R M S Cook & Flt Lt R W Hardisty
1974/75 Flt Lt E G Candlish & Flt Lt J Vinales
1976 Not Awarded
1976/77 W P Robinson Esq
1977/78 The Royal Air Force Tanker Wing
1979 Not Awarded
1979/80 Captain G Vette & M Forsyth Esq
1981 - 1982 Not Awarded
1982/83 Commander S C Thornewill RN
1984 - 1985 Not Awarded
1985/86 The Giotto Space Probe Navigation Team
1986/87 The Voyager Team
1988 Not Awarded
1988/89 Wing Commander Raymond L Lomas RAF
1989/90 Peter Norvill Esq
1991 - 1994 Not Awarded
1994/95 Flight Lieutenant J W Hendy
1995/96 Captain Alex Fisher
1996/97 Captain David Massy-Greene QANTAS
1997/98 James C Lawson Esq
1998/99 Jon Johanson
1999/2000 Flight Lieutenant David Wilson RAF
2000/01 Thomas Beverley Nichols
2001/02 Flight Lieutenant Timothy Carr RAF
2002/03 Geoffrey Alan Burtenshaw
2003/04 Number 33 Squadron RAF
2005 Not Awarded
2005/06 Sea King Mk7 Trials Team - Lieutenant Commander Tite RN, Lieutenant Commander Ling RN, Lieutenant Commander Smith RNR, Lieutenant Commander Richardson RN (retd)
2006/07 Boeing J0UCAS Programme X-45A
2007/08 815 Naval Air Squadron Training Team
2008/09 5 (AC) Squadron
2009/10 51 Squadron RAF
2010/11 Attack Helicopter Force ("UK Team Apache")
2011/12 Squadron Leader J Jody McMeeking RAF
2012/13 Squadron Leader Simon Mellor RAF
2013/14 3rd Special Operations Squadron USAF
2015 Not Awarded
2016 Royal Air Force UK Reaper Force
2017 British Antarctic Survey Air Unit
2018 700X Naval Air Squadron
2019 The Tornado GR Force
2020 Not Awarded
2021 The Royal Air Force Sentinel Force