Awarded to an individual, a complete aircraft crew, or an organisation, for an outstanding contribution to air transport or transport aircraft operations.
(amended Terms of Reference 2019)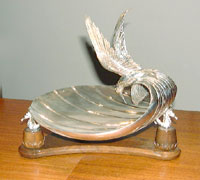 2020 Awarded to: Number 32 (The Royal) Squadron RAF

Number 32 (The Royal) Squadron of Royal Air Force Northolt, delivers Command Support Air Transport (CSAT) to members of the Royal Family, Government Ministers and senior military leaders, and has done so for the last 50 years. The Squadron and its industry partners, British Aerospace, SERCO and Sloane Helicopters, have been nominated for their invaluable contribution to UK Government activity, most notably their support during the last year of EU withdrawal negotiations, whilst in parallel, having to operate their aircraft from RAF Benson during RAF Northolt's runway resurfacing operations. The Squadron and its partners have delivered well beyond their remit, often at very short notice, to provide an exceptional VVIP service to both the Prime Minister and senior government officials.
The Squadron provides four BAe146 aircraft and one Augusta 109SP in support of Key Leadership Engagement activity and a wide range of military transport tasks. In the past 12 months the tasks have varied considerably and included timely and cost-effective transportation of the Prime Minister, the Defence Secretary and the Foreign Secretary to their respective engagements throughout Europe, North Africa and the Broader Middle East. Given the unrelenting pace of EU withdrawal negotiations and concomitant tempo of Governmental activity, the Squadron has often been called upon at extremely short notice and has not failed to deliver.
Providing this level of complex and dynamic tasking has been even more impressive because it has been delivered away from the Squadron's logistical support base at RAF Northolt, a deployment known as Operation BOLTHOLE operating from RAF Benson. Operational support was not only required for the BAe146 aircraft at RAF Benson, but concurrently for the A109 helicopter operating from RAF Northolt, bringing added complexity to operations given the need to co-ordinate personnel, logistics and engineering between the two sites. Moreover, the addition of an 'airbridge'-dedicated A109 to facilitate transport for London-based VVIPs necessitated a substantial increase in tasking. Significantly protracted working hours were often required by all personnel, a challenge that was readily accepted by this highly committed, loyal and professional team, upholding the Squadron's and RAF Northolt's highly regarded reputation. During the entire deployment not a single task was lost and over 80 VVIP tasks were seamlessly delivered.
The members of number 32 (The Royal) Squadron and its contracted engineering support partnerships have been tested many times during the Squadron's illustrious history, but none more so than over the past 12 months, which has required teamwork and dedication across the Whole Force to ensure unwavering support to the Government, despite the challenges of Operation BOLTHOLE. With limited manpower, an ageing aircraft and difficult circumstances, the Squadron has delivered everything that has been asked of it. Moreover, it has done so with a professional, good-humoured and 'can-do' attitude.
In recognition of unstinting professionalism and commitment in support of the UK's strategic interests, Number 32 (The Royal) Squadron and its industry partners are thoroughly deserving recipients of the Brackley Memorial Trophy.
Previous Winners:

1948/49 J L Parker Esq
1949/50 H W C Alger Esq
1950/51 Wing Commander B J Aikman
1952 Not Awarded
1952/53 G A V Tyson Esq
1954 Not Awarded
1954/55 Royal Air Force Station - Pembroke Dock (201 & 230 Squadrons)
1956 - 1957 Not Awarded
1957/58 Comet and Britannia Flights of BOAC
1960 Not Awarded
1960/61 Captain J S Shephard
1961/62 No. 216 Squadron RAF
1962/63 No. 22 (SAR) Squadron RAF
1963/64 Captain Richard Rymer (postumous)
1964/65 Captain Frederick Ladd MBE
1965/66 Commander P M Lamb
1966/67 J H Phillips Esq
1968 Not Awarded
1968/69 Nos 22 and 202 Sqn, Coastal Command
1969/70 Flying Crews of Bristow Helicopters
1971 Not Awarded
1971/72 Captain C M Ramsey
1973 - 1974 Not Awarded
1974/75 Royal Naval Air Station Culdrose
1976 Not Awarded
1976/77 Captain Brian J Calvert
1978 - 1979 Not Awarded
1979/80 Captain Hugh P K Dibley
1980/81 Commander J Young and Captain R Crippen
1981/82 Long Range Operations-Falklands Islands Gp Capt Price, Wg Cdr P J Squire, Flt Lt W F M Withers, Flt Lt T F Locke, Flt Lt J A Cowan
1983 - 1986 Not Awarded
1986/87 Captain J Mason
1988 - 1991 Not Awarded
1991/92 Captain H Gee
1992/93 Captain T R Fulton
1994 - 1995 Not Awarded
1995/96 Aircrew of 47 Squadron Special Forces Flight
1997 Not Awarded
1997/98 Captain W D (Jock) Lowe
1998/99 Captain Neville J Hay
1999/2000 Captain Iain McClelland
2001 Not Awarded
2001/02 47 Squadron RAF
2002/03 99 Squadron RAF
2003/04 Squadron Leader James Dalrymple Cunningham MBE
2005 Not Awarded
2005/06 John Cashman
2006/07 J Tactical Training Flight RAF
2008 Not Awarded
2008/09 Squadron Leader Keith Hewitt MBE RAF
2010 - 2011 Not Awarded
2011/12 Flight Lieutenant C D Maggs RAF
2013 - 2015 Not Awarded
2016 Flight Lieutenant Stephen Hewer RAF
2017 40 Squadron Royal New Zealand Air Force
2018 Not Awarded
2019 British Airways Concorde Fleet
2020 Number 32 (The Royal) Squadron RAF