The Johnston Memorial Trophy
Awarded for outstanding performance in the operation of airborne or space systems, manned or unmanned.
(amended Terms of Reference 2019)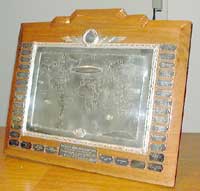 2018 awarded to: 700X Naval Air Squadron

700X Naval Air Squadron formed at the outbreak of World War Two and initially operated catapult launched float-planes from battleships at sea; in peacetim
e
, it took on the mantle of an Intensive Flying Trials Unit (IFTU) and over the years has brought the majority of the Fleet Air Arm's
frontline fixed and rotary wing aircraft into service; from Scimitar to Sea Harrier and Whirlwind to Merlin.
Up until 2017, and in its latest guise as a small unit of only fourteen permanent staff as the Royal Navy's only Unmanne
d Air Vehicle (UAV) unit, 700X Naval Air Squadron was charged with operating
the catapult launched Scan Eagle Reconnaissance Maritime (SERM) UAV from Type 23 frigates, successfully integrating the capability with Carrier Battle Groups and manned aviation on operations in and around the Arabian Gulf. Having flown in excess of 2700 hours from eight platforms over a three year period, the Squadron proved the utility, capability and flexibility of unmanned air systems at sea and in so doing has laid firm foundations for the provision of future UAVs in naval service.
The Squadron is now at the forefront of innovation with Commercial of the Shelf (COTS) mini UAS (Class 1B). Recognising the pressure on resource, 700X Naval Air Squadron have been instrumental in identifying that inexpensive, arguably disposable, COTS mini systems could achieve a simple but highly effective 'eye in the sky' capability that could be operated from the smallest of vessels. Driving a programme of procuring, categorising and testing these systems, they have established their utility and exploitation in the defence environment, particularly in the demanding and complex maritime context. Originally intended for simple non-operational missions, it soon became clear that there are a multitude of scenarios in which they could be employed from ice navigation in Antarctica, Boarding Party over-watch to maritime Improvised Explosive Device (IED) clearance.
Whilst simple and intuitive to fly, operators of the COTS mini systems still require training and here, taking Civil Aviation Authority (CAA) training as a basis, the Squadron developed a Defence Systems Approach to Training (DSAT) compliant and Military Aviation Authority (MAA) approved training course. It has proven a huge success, with demand from across the MoD far exceeding expectations with the Squadron training its anticipated annual quota in the first six months of delivery.
700X Naval Air Squadron has provided the delivery aspect in what has been a paradigm shift in Fleet Air Arm involvement with unmanned aviation. Their drive in turning the Urgent Operational Requirement of ScanEagle into a deployed reality has been the key in re-opening eyes to the capability and potential of the UAV in the maritime and littoral. They have established themselves as the pan-Defence Centre of Excellence for Class 1B UAS, supporting every colour uniform in a variety of cutting edge trials and roles and have provided a baseline for operators as these systems proliferate, to engender an ethos of flight safety which is essential to the integration of unmanned systems into the manned aviation environment.
Throughout naval aviation history 700X Naval Air Squadron have been at the forefront of trials and development flying, and the outstanding efforts in the pursuit of unmanned air capability at sea and in the wider defence environment personifies the determination, flexibility and 'can do' attitude that is in the finest traditions of the Fleet Air Arm and make them worthy recipients of the Johnston Memorial Trophy.
Previous Winners:
1931 Sir Francis Chichester
1932 Squadron Leader Herbert/ J L Hinkler Esq
1933 J A Mollison Esq
1934 Not Awarded
1935 E W Percival Esq
1936 Miss Jean Batten
1937 A S Wilcockson Esq
1938 D C T Bennett Esq
1940 - 1948 Not Awarded
1948/49 W H Crowther Esq/ R B Tapp Esq/ L R Ambrose Esq QANTAS
1949/50 Captain P G Taylor
1951 Not Awarded
1950/51 Captain P G Taylor
1952 Not Awarded
1951/52 Captain P G Taylor
1952/53 Captains and Crew of Service Aircraft "Aries"
1953/54 Pilots and Navigators of Comet Fleet BOAC
1955 Not Awarded
1955/56 Captain J H Saffery and Pilots and Navigators of Hunting Aero Surveys on Antartic Expedition
1956/57 Squadron Leader J H Lewis, Commanding the RAF Detachment Unit with the British Commonwealth Trans-Antartic Expedition
1957/58 Captain and Navigational Crews of the Aircraft and Armament Experimental Establishment
1959/60 The Decca Navigator Company Limited
1961 Not Awarded
1961/62 G E Beck Esq, M Morgan Esq of Marconi's Wireless Telegraph Co.
1962/63 Wing Commander D F H Grocott
1964 - 1967 Not Awarded
1967/68 Wing Commander E W Anderson
1969 - 1973 Not Awarded
1973/74 Flt Lt R M S Cook & Flt Lt R W Hardisty
1974/75 Flt Lt E G Candlish & Flt Lt J Vinales
1976 Not Awarded
1976/77 W P Robinson Esq
1977/78 The Royal Air Force Tanker Wing
1979 Not Awarded
1979/80 Captain G Vette & M Forsyth Esq
1981 - 1982 Not Awarded
1982/83 Commander S C Thornewill RN
1984 - 1985 Not Awarded
1985/86 The Giotto Space Probe Navigation Team
1986/87 The Voyager Team
1988 Not Awarded
1988/89 Wing Commander Raymond L Lomas RAF
1989/90 Peter Norvill Esq
1991 - 1994 Not Awarded
1994/95 Flight Lieutenant J W Hendy
1995/96 Captain Alex Fisher
1996/97 Captain David Massy-Greene QANTAS
1997/98 James C Lawson Esq
1998/99 Jon Johanson
1999/2000 Flight Lieutenant David Wilson RAF
2000/01 Thomas Beverley Nichols
2001/02 Flight Lieutenant Timothy Carr RAF
2002/03 Geoffrey Alan Burtenshaw
2003/04 Number 33 Squadron RAF
2005 Not Awarded
2005/06 Sea King Mk7 Trials Team - Lieutenant Commander Tite RN, Lieutenant Commander Ling RN, Lieutenant Commander Smith RNR, Lieutenant Commander Richardson RN (retd)
2006/07 Boeing J0UCAS Programme X-45A
2007/08 815 Naval Air Squadron Training Team
2008/09 5 (AC) Squadron
2009/10 51 Squadron RAF
2010/11 Attack Helicopter Force ("UK Team Apache")
2011/12 Squadron Leader J Jody McMeeking RAF
2012/13 Squadron Leader Simon Mellor RAF
2013/14 3rd Special Operations Squadron USAF
2015 Not Awarded
2016 Royal Air Force UK Reaper Force
2017 British Antarctic Survey Air Unit
2018 700X Naval Air Squadron