(formerly the Award of Merit)
Awarded for meritorious service to the Company.
2020 Awarded to: Will Wright and Becky Kwo

The ambition of the Master during his year in office has been to re-energise and bring the company together through the process of encouraging the development of young members who in turn help others. Before his term in office plans were agreed with Will Wright and Becky Kwo but immediately after the installation the Covid19 crisis prevented face-to-face meetings. However, the team turned a negative into a positive with the use of Zoom and other IT systems. The result is that many members have now become actively involved and made valuable contributions. It has been a real team effort but in the eyes of the Master, Will Wright and Becky Kwo deserve special recognition for their leadership, determination and vision.
* Will and Becky shared the Master's vision and played a significant part in the development of the young members group bringing together an impressive team with a wide range of skills;
* They were very effective helping the Master to communicate the aims of the year to the Assistants, Past Masters and other groups using Zoom. This directly led to the successful adoption of Zoom by many who were previously unfamiliar with the platform for Court business and social meetings;
* An improved mentoring scheme and a wide range of training opportunities have been developed which will be delivered online and, later, will also be held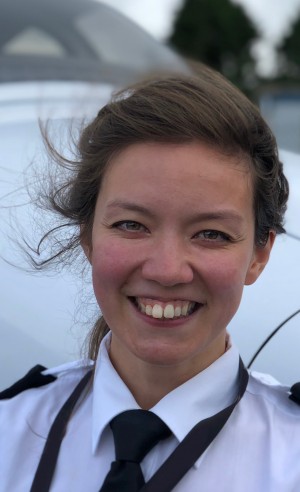 in Air Pilots House;
* Several improvements to, and increased use of, the young members section of the website and various other communication means have developed an increased sense of 'belonging' for many young members;
* Virtual Coffee Meetings have opened-up communications with Air Pilots of all ages from all Regions. Company members from aspiring aviators to Court members are taking part and with the introduction of online bookings, excellent hosting and facilitation, these events have very positive feedback and have made a real impact.
From the first concept meeting through every stage of the development process both Will Wright and Becky Kwo have made a significant and positive contribution. For their combined outstanding service to the Company, which has made such a positive difference in this most challenging of years, and which are influencing the way in which the Company operates in the future, Will Wright and Becky Kwo are jointly awarded the Sir Alan Cobham Memorial Award.
Previous Winners:
As the Award of Merit:
1959/60 E B Trubshaw Esq
1960/61 Wing Commander C E F Arthur AFC
1961/62 C L Pashley Esq MBE AFC
Group Captain H A Purvis DFC AFC
1964/65 C A Nepean Bishop Esq
1965/66 Miss Sheila Scott
1966/67 C C H Dash Esq
1968 - 1970 Not Awarded
1970/71 Mrs V Dowling
1971/72 E Day Esq
1973 Not Awarded
1973/74 Lieutenant Colonel R Smith ERD
Sir Frederick Tymms KCIE MC
1974/75 L A Wingfield Esq MC DFC
Captain J E Futcher
1975/76 Captain R E Gillman DFC
1976/77 A P W Cane Esq
1977/78 J L B Cowan Esq
1979 - 1980 Not Awarded
1980/81 Captain Brian Powell
1981/82 Captain Jack Nicholl
1982/83 Robert Pooley Esq
1984 Not Awarded
1984/85 W T F Rossiter Esq
1986 Not Awarded
1986/87 Captain Charles A Owens LVO
1987/88 Captain John D Mackellar
1988/89 Cyril (Ray) Jeffs Esq OBE
1989/90 Captain Neville Grady
1991 Not Awarded
1991/92 Captain Maurice R Aries
1993 - 1994 Not Awarded
1994/95 Raymond Baxter Esq
1995/96 The late Ronald D Campbell Esq MBE
1996/97 Dr Michael Bagshaw
1997/98 Past Master Fred S Stringer
1998/99 Hugh O Field Esq
1999/2000 Captain Ray Heiniger
2000/01 Captain Clive E Elton
2001/02 Captain Jack G L Smith
2002/03 Captain C L Hodgkinson
2003/04 Captain John B Robinson
2004/05 Captain John Mason
2005/06 Michael J A Glover
2006/07 Captain David Martin
2007/08 John W Kessey
2008/09 Captain Richard (Dick) Felix
2009/10 Captain Ian Frow
2011 Not Awarded
2011/12 John Stuart Burley Esq OBE FRAeS
2013 Not Awarded
2013/14 Ronald Price
2015 Not Awarded
--------------------------------------
As the Sir Alan Cobham Memorial Award:
2016 Not Awarded
2017 David C Curgenven
Peter Adrian Bird
2018 Donna Farquhar
Captain Barry Mitchell
2019 Ruth M Cundy
2020 Will Wright and Becky Kwo